45 Seater Bus Rentals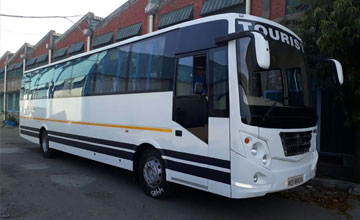 Sachdeva Travels is recognized as the leader in Coach rental service in Amritsar due to the satisfied customers. Sachdeva Tour & Travels are providing a wide range of coach rentals in Amritsar also Tempo Travellers Amritsar. 45 Seater Large Coach hire in Amritsar(Punjab) promises to be a very profitable proposition. These coaches are efficient and safe. Technically the 45+2-seater A/C luxury Coach gives you the most comfortable & hassle free travel service with modern features and facilities in Bus.
Sachdeva Tour & Travels provide 45 seater bus on rent with all the facilities included such as air-conditioner, Fan, Pushback seats and many others. Just hire 45 seater bus in Amritsar to all over India where you want to go such as Delhi, Chandigarh, Manali, Shimla, Dalhousie, Dharamshala, Mcleodganj, Agra, Kashmir and many other with rent 45 seater bus.
45 Seater Bus On Rent in Amritsar To Chandigarh
45 Seater Bus On Rent in Amritsar To Shimla
45 Seater Bus On Rent in Amritsar To Manali
45 Seater Bus On Rent in Amritsar To Katra
45 Seater Bus On Rent in Amritsar To Delhi
45 Seater Bus On Rent in Amritsar To Agra
45 Seater Bus On Rent in Amritsar To Jaipur
45 Seater Bus On Rent in Amritsar To Rajasthan Tour
45 Seater Bus On Rent in Amritsar To Dalhousie
45 Seater Bus On Rent in Amritsar To Dharamshala
45 Seater Bus On Rent in Amritsar To Haridwar
45 Seater Bus On Rent in Amritsar To Rishikesh
45 Seater Bus On Rent in Amritsar To Anandpur Sahib
Send Query to Book 45 Seater Bus Rentals