31 Seater Bus Rentals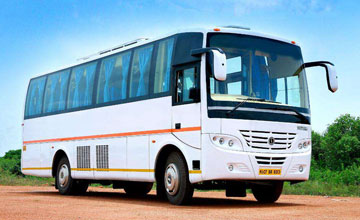 The most comfortable and safest option for road travel is to Travel in Bus. Sachdeva Travels providing best options to travel in Amritsar with hiring 31 Seater Bus on Rent in Amritsar to enjoying every bit of trip with your group members. This 31 Seats bus equipped with all modern facilities and features to travel with comfort. We preffer this bus for long distance travels as they provide ample space to sit comfortably with clearances for everyone.
If you are looking to travel in large groups then Sachdev Travels is right choice. Amritsar is known for Holy City and the most important Shrine for sikh religion of its Golden Temple (Harimandir Sahib ). We offer bus tours in Amritsar to visit & see Golden Temple, Jallianwala Bagh, Wagha Border, Mata lal Devi Temple, Maharaja ranjit Panorama and so on. So may it be Amritsar darshan, Visiting beautiful places, or religious destinations (Gurudwaras(Sikh temples) & mandir(Hindu temples) ), our well maintained Buses provide you best possible comfort with experienced driver that make your journey safe, comfortable and memorable. Our buses are well maintained, clean, & hygienic. We suggest buses depending of strength of travellers. Its always a good option for a big group to travel in same vehicle.
Send Query to Book 31 Seater Bus Rentals