27 Seater Bus Rentals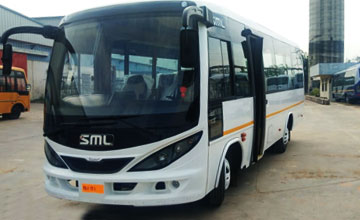 Sachdeva Tour & Travels provide 27 Seater Bus/coaches in Amritsar for our client's, who is amongst the best high-class transportation available in North India, offering its customers convenience & safety. Our 27 seater Luxury Buses are available in North India cities and nearby places. Book 27 Seater Tourist Bus in Amritsar for Golden Temple & Wgaha Border 1 day tour, 2nights tour of Amritsar in Bus, Amritsar to Dalhousie bus Hire, Amritsar to Dharamshala Bus Rental, Amritsar to Kullu Manali bus hire service, 27 Seater Bus Rentals Amritsar.
27 Seater Bus is the best option for traveler to book and enjoy holidays with families, relatives, friends. This 27 Seater Ac & Non-Ac Bus gives you all the modern comforts of travel in modern era. We always focus to serve best class and hassle free travel experience. That's why we are getting 99% excellent feedback's from customers.
Feel free to ask for any query for travel in Amritsar or bus hiring options from Amritsar, Pathankot, Delhi, Chandigarh, jammu or any nearby places
Send Query to Book 27 Seater Bus Rentals